We have reached 34 weeks!

Only 6 weeks left to go!
J
That's about a month and a half before we get to meet little Michael!
Sorry for the blog delay…. We had a very busy day yesterday and today.

Today was Baby Shower Day!
J
My mother-in-law, and one of my best friends, were the hostesses for this beach themed shower.

It was so much fun and I wanted to wait until the shower was over so that I could post pictures here for everyone to see.
We had a really great time.

We played "Price is Right: Baby Edition" where we had several baby items, and everyone had to guess the cost (without going over).

My mom surprised herself by winning.
J
Next, we played "Toilet Paper Tummy" where everyone had to unroll as much toilet paper that they thought it would take to go all the way around my tummy.

My Nana, who sews marvelously, won that game.
J
We had a snack break filled with great food!

We had fruit skewers, pigs-in-a-blanket, funfetti cake batter dip with chocolate animal crackers and Vanilla wafers, brownie peanut-butter bites, and a veggie tray with dip.

Drink options included sweet tea, lemonade, and "ducky-bath punch."
J
Angela (Aaron's aunt) made a marvelous "beach themed" cake.

It was so cute, and sooo delicious.

After the snack break, I opened presents.

I am a very blessed mother-to-be.

All of the gifts were thoughtful and each one of the guests holds a special place in my heart.

After the gift time, we drew a name for our diaper raffle.

My Aunt Robyn won!
J
The diaper raffle gift included items from Bath & Body Works that we hand-selected and put together in gift-basket form.

Next, everyone participated in the "Baby Quiz" of 5 multiple-choice questions and one bonus question.

It was fun to see the written-in suggestions from some of the guests!
J
The winner of the Baby Quiz was Aaron's cousin Nadine!

We passed out favors to all the guests which included either "brown sugar body scrub" or "lemon-sugar hand scrub."
I hope to put up pictures of the decorations around my mother-in-law's home (where the shower was held.)

I'm sure someone was on top of their game and snapped a few photos.

I wish that I had been more savvy in that department today.

But, here is a picture of the cake and the punch.
The rubber duckies in the punch were a little weighed down by their stylin' mohawk hair-dos.
And here's my belly picture this week:

After the shower, our car was stuffed full of goodies and I am quite impressed with the capacity of baby-shower items that our car can hold!

The vehicle was filled with numerous baby shower goods, some left-over shower snacks, a dog, a husband, and a very rotund mom-to-be.

Oh yeah, and a partridge in a pear tree.
So, as you can tell, we are pretty tuckered out!

Even this little guy:
He got to spend the night at "Grandma and Grandpa's" house last night and I picked him up after the shower.

He is always a tired puppy after visiting Grandma, Grandpa, Uncle Bryan, and Dixie (his favorite doggie friend).
J
We had a doctor's appointment this past week.

It wasn't an ultrasound visit, but the doctor could feel where Michael was in the womb and said that he is growing perfectly!

I don't think Michael has turned to be head-down yet.

In 2 weeks when I go back to the doctor, I will get a pelvic exam and the doctor will be able to tell at that point whether Michael has turned yet or not.

Starting from my doctor visit in 2 weeks, I will begin going to the doctor each week until delivery! I can't believe we are already at this point in the pregnancy!

This pregnancy has almost been like a giant snowball—it seemed to take a long time to get to the super fun stuff in pregnancy like getting the gender-revealing ultrasound, feeling Michael moving around, and having baby showers.

But now, it seems like we're moving at light-speed and rolling ever faster toward the due date!

I couldn't be happier!

I'm ready to meet my little man.
This past week, I got to go with Mom, Dad, Bryan, and Nana to the Millbrook Theatre to see "State Fair"—one of my favorite musicals.

My coworker friend choreographed this production and she did a fantastic job!

Michael was having a ball and dancing inside my tummy nearly the whole time—he knows good music when he hears it!
J
Now that we have accumulated quite a bit of baby stuff, the trick will be finding some place to store it all!

Yes, I've been thinking about how I'm going to organize, clean, and store items.

That means, nesting is on the horizon!

I consider myself to be in "pre-nesting" stage.

This is where I know all the things I'd like to clean and organize--

I just don't have the energy to do any of it.
L
Hopefully, this needed energy will come when the real nesting stage begins!
-Michael is coated with a cream-cheese like substance called "vernix" to keep his baby-skin from pruning in the amniotic fluid.

Before he's born, this creamy substance should mostly be off of him, except in hard-to-reach places like his underarms or behind his ears.

That's ok… he's gonna get a bath after birth so he can be all squeaky clean and have that good baby smell.
J
-The furry substance, called lanugo, that covered Little Baby P.'s body to help him stay warm is now nearly gone.

His little body continues to grow and accumulate fat in order to stay warm.
-His immune system is developing, and he's not as reliant on the antibodies received through the placenta.

Already he's branching out and doing some things on his own without the help of me, his mother!
-Little Michael weighs about 5 pounds and is roughly 17 and a half inches long, which is roughly the size of an American Girl doll: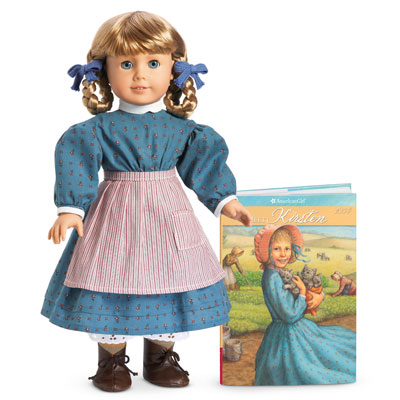 (Photo credit: verbicidemagazine.com)
-watermelon.

Oh boy. I could eat this at every meal.
-Melons, peaches, cherries…. Fresh fruit in general.

Ah, the benefits of being pregnant in the summertime!

So much good produce to choose from!
-Ice cream. Womp womp.

Yes, I am officially in the "ice cream craving mode."

I try to limit myself… or to attempt to get my calcium intake from other sources, but I keep coming back to the ice cream craving.

This might be a downside of being pregnant in the summer—it's hot and ice cream just does a fantastic job of helping me cool down.
J
Thank-you for taking time to catch up on the goings-on we've had this week.

Keep us in your prayers as we progress through these last few weeks!

Until next week! Love, Reba