Yay! We are 4 months along! We're nearly halfway there!
I was thinking to myself the other day, "Man, I really think I'm showing a lot for someone who's not very far along" and then I thought "Wait a second, I'm four months pregnant and that's nearly halfway-- that's pretty far along!" :) I know I have many more months to go, but it's fun to realize that everyday gets us closer to meeting Little Baby P.
This week was a monumental one. (Drum roll please).......................................The CRIB is put together! :) I am SO SO excited about this! Aaron was a great Dad-to-Be and put the crib together on Wednesday night after church. Needless to say, that got me into a cleaning mood and I felt an urgency to make the nursery to actually live up to its name! So, without further ado, here are some pictures of our Little Baby P.'s future bedroom.
Here is a picture of our stroller. The carseat is sitting inside the stroller, which is how it will be when Little Baby P. goes for a stroller ride as a newborn. 
Here are all of Little Baby P.'s clothes and accessories. Yes, Little Baby P.'s Uncle Andrew bought a teeny-tiny Auburn beanie (and a Florida Gator one as well). Yes, Little Baby P. will be allowed to wear the Florida Gator beanie in the company of family who are Florida fans. :) However, the only "red and white" allowed on Little Baby P. must be Detroit Red Wings. :) But by looking at the majority of items displayed, Little Baby P. is definitely going to be a little Tiger fan. :)

Here is a picture of the crib that my handy-hubby put together. The mattress has four place settings so that we can lower it as Little Baby P. grows. It can also be turned into a toddler bed, and then eventually we can use the back-rail and the front-rail as a Full size headboard and footboard.
Here is a picture of the dresser that Little Baby P.'s teeny clothes will lay in.
Here is the desk that will be repurposed as a changing table for Little Baby P. Underneath the desk is the carseat base.
I hope you have enjoyed this mini tour of Little Baby P.'s future room. There is also a queen size bed and a bent-wood rocker in the room. After all, Little Baby P.'s nursery is doubling as a Guest room.
I am more and more excited everyday as Aaron and I get closer to becoming parents. I am looking forward to all of the joys and even the not-so-happy moments that come with being a parent. We cannot wait to meet Little Baby P.!
-Little Baby P.'s eyes begin to move slowly, though the eyelids are still fused. The eyes are now locked in their position-- facing forward rather than to the side.
-Little Baby P. can frown and is practicing other facial expressions like squinting and yawning too.
-Little Baby P.'s skin is translucent and wrinkly-- kinda like in "The Curious Case of Benjamin Button." As Little Baby P. gets bigger and gains fat, the skin will plump out and not be so wrinkly.
-At the moment, Little Baby P.'s veins are visible through the skin.
-Little Baby P.'s heart is pumping 25 quarts of blood each day. Wow!
-Little Baby P. weighs about 3 ounces, and is roughly 5 inches long. That's about the length of a tube of mascara: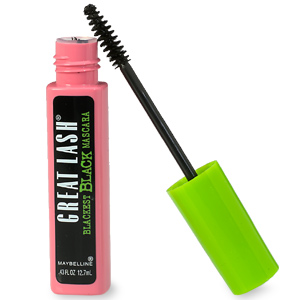 (Photo credit: arizonafoothillsmagazine.com)
-Hot tea (I checked with the doctor and he said it's totally fine to have a cup of hot tea in the mornings at work). I offset the caffeine intake by not having other drinks with caffeine in them on days I drink hot tea.
-I'm in a chocolate mood, but that's probably more related to Easter candy being in the stores now. :) I haven't given in to this craving, and I don't plan to. I stay satisfied with my Skinny Cow ice cream bars.
-This is not food related, but it's a quirk nonetheless. Recently, I have hated wearing real shoes. I feel the need to be in flip flops or sandals so my feet can breathe and so I can see my bright pink toenails. Our weather is beginning to warm up and I am finding myself reaching for sandals rather than flats every day of the week.
I still haven't really felt a consistent movement from Little Baby P. I keep waiting to feel fluttering of any kind in my tummy area. Hopefully I will begin to feel our little baby soon. I know he or she is moving around a lot during the day, and I am anxious to feel the kicks and dances! :)
Thank-you for your continued prayers. Remember in three weeks we will find out if Little Baby P. is a boy or a girl. :) Love, Reba