We have reached week 17 and we couldn't be happier! :)
Only 2 Weeks to go until we find out if Little Baby P. is a boy or a girl.
A cute stylish girl:
(Photo credit: bjdcollectasy.com)
A hockey playin'
little boy:

We have our guesses, but we are so so anxious to find out for sure! :)
Little Baby P. is growing as you can see:
Akuna, the big brother, is always close by:
Little Baby P. is most active so far on Wednesdays, which is when I feel the little flutter movements the most. We can't wait for the ultrasound and are very excited to see how much Little Baby P. has changed since our last ultrasound at 7 weeks.
-
Little Baby P. is busy accumulating fat for his or her little body. This fat will help keep Little Baby P. cozy as he or she continues to grow.
-Little Baby P.'s weight should increase about 6 times in the next month! Wow!
-Little Baby P. is really practicing sucking and swallowing so that he or she will be a pro eater outside of the womb.
-Fingernails and toenails are beginning to grow, which explains why they will need a trim shortly after birth!
-Little Baby P. weighs about 5 ounces and is over 5 inches long. That's about the size of a loaded baked potato:
(Photo credit: dreamstime.com)
or a stretched out hand: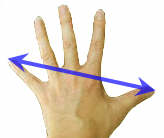 (Photo credit: mathisfun.com)
-Ice cream-- On Monday, Aaron took me on a date to get a DQ Blizzard (buy one, get one for 99 cents!)
-Salad (with tomatoes!!!) with honey mustard dressing, or Ginger dressing.
We are on a mission this weekend to find baby and children's books so we can start reading to Little Baby P. before bed. To compensate in the mean time, I've been narrating my day to Little Baby P., but I know that's not as exciting as "Goodnight Moon" or "Baby Dear." :)
We are excited each morning when we wake up, and all throughout the day. God has surely blessed us and we look forward to the future of blessings to come! We can't wait to meet our Little Baby P. in just a few short months! Thank-you for your continued prayers. Love, Reba